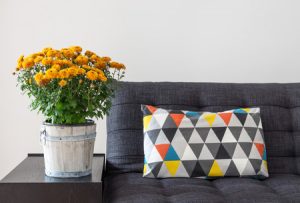 If you're into home design trends, and have been thinking about giving your place some updates in the coming months, you might be interested in what the biggest trends will be this year. Here's a look ahead at 2018 interior design trends.
More Color
In a departure from the cool gray and white of the last couple of years, 2018 interior design will see much more color—picture deep reds, yellows, oranges, and basically anything that makes your home feel warmer and more inviting. Warmer color pallets will definitely be giving off a more casual vibe, but 2018 will be all about comfort and coziness.
Florals
Since color is back in, so are florals. Homes in 2018 will have colorful florals in the bedrooms and bathrooms, in striking, contrasting colors.
Geometric Patterns
In terms of backsplashes and wallpaper, expect to see more geometric designs. You'll see accent walls, or wallpaper across an entire room. You might also find geometric patterns in pillows, rugs and throw pillows.
No More White Sinks
Business Insider says that sinks will no longer be classic white porcelain. Instead, homes in 2018 will have large basin sinks made of stone, copper, concrete or granite.
Wood Accents
Realtor.com says that 2018 will show more and more wood accents. All of the new technology in our lives may have us craving natural elements! You'll see natural wood cabinet pulls, stools, wall accents and décor, and trim.
Window Treatments
The best way to freshen up a room is to redo your window treatments and any or all of these upcoming trends for 2018 can be incorporated into your windows. Call Sandy at Decorators Delight today at 972-672-3125 today to learn about our custom draperies, quality shutters, roller shades, wood blinds, and more. We will be sure to find something that will fit your style!