Custom draperies are our specialty: having a large library of fabrics and accents, we can find something that will fit your style.
We offer quality shutters and shades at affordable prices; including roller shades, solar shades, wood blinds, vignettes, silhouettes, duettes, etc.
Update your upholstery on indoor and outdoor furniture with a wide variety of fabrics to choose from.
---
Learn About Decorators Delight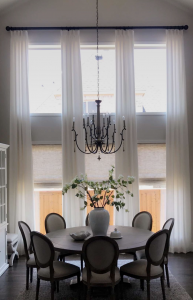 Custom Draperies are our specialty and passion. We are committed to quality products with exceptional service while creating your vision into a reality.
Special attention is given to each client. Our excellent reputation for quality work and design is shown in the beautiful finished product you receive.
We adhere to the same standards of excellence on which our reputation is built. Experience comes with knowledge, talent, and practice, and it is our pleasure to share that while helping you build your dream.
Contact us today to purchase locally made window covers, bedding, shutters and upholstery for furniture.
Authorized Dealer of:
Graber
Horizons Window Fashions
Multi Award Winner